Liverpool's 'local jobs' clause in contracts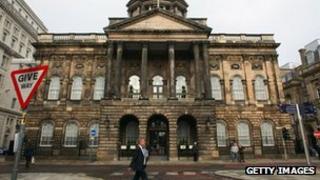 Contracts awarded by Liverpool council could be handed to firms with a focus on employing local people.
A procurement board is being set up to manage the £270m budget for buying in goods and services from third parties.
The council said it will look to employ firms which can demonstrate clear benefits to local jobs and skills.
Firms with a smaller gap between the highest and lowest paid staff will also benefit.
'Developing skills'
Deputy Mayor and cabinet member for finance Paul Brant said: "The new procurement policy is a shift towards making sure every penny of our spending benefits local people.
"The city council spends substantial amounts of money and it has the potential to really boost the local economy.
"This is about saying to firms that, in return for being awarded major contracts, we want them to demonstrate their commitment to developing jobs and skills in the city."
The new policy, which has been recommended for approval, will be considered at a council meeting later.
If approved, the council said when awarding contracts it will consider what recruitment and training, subcontractor and supply chain opportunities can be obtained to benefit the local community.
It may mean that work experience, training, equal opportunities and the recruitment of apprentices are stipulated as part of the contract specification.