Mersey Ferries to remove one of three services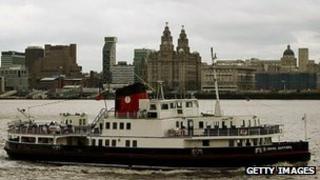 One of three Mersey ferries is to be taken out of service from January, Merseytravel has confirmed.
The Royal Daffodil has been named as the vessel to be laid up, by ferry operators Mersey Ferries.
Councillor Liam Robinson, Chair of Merseytravel, said: "It certainly doesn't signify any threat to this operation."
In August, Merseytravel said it was reviewing ferry operations to cut an annual £1m deficit.
"We recognise the place the ferries hold in Merseyside lore and culture, and that they are an essential part of our heritage. We are committed to keeping them in operation," said Mr Robinson.
"[But] we also have to recognise that times have changed. Passenger numbers have fallen, to around 650,000 annually, and an operating deficit of £1m per annum cannot be sustained."
Sixties hit
He said the improved reliability of the ferries meant that there would be no loss of services caused by the reduction in the number of vessels.
The surplus vessel could be loaned to a local museum or trust, with the option of a recall if necessary.
The ferries, immortalised by Gerry and the Pacemakers 1960's hit Ferry Cross the Mersey, are subsidised by tolls from the Mersey Tunnels.
Although used by commuters, the vessels are mainly a tourist attraction.
The ferries are protected by a Royal Charter and an act of parliament would be required to end the service completely.
In their 1950s heyday, the ferries carried millions of passengers, but these numbers dropped due to competition from rail and the construction of the second Mersey road tunnel, in 1971.
The first fare-paying ferry across the Mersey was operated by Benedictine monks from Birkenhead Priory in the 12th Century.