Merseyside floods: Region remains on alert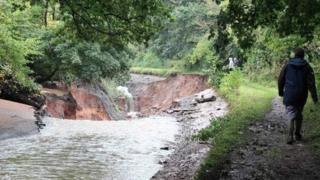 People across Merseyside and Cheshire are dealing with the affects of heavy downpours after many parts of the region were affected by flooding.
Some of the worst affected places were Maghull and St Helens, with problems also reported in Ellesmere Port, Kirkby, Bromborough and around Chester.
Several roads have been closed across the region and flooding has led to some train cancellations.
Flood alerts remain in place in several areas including Wirral and St Helens.
The Met Office said the past 48 hours had been the most intense September storm for 30 years.
The River Sankey burst its banks in St Helens on Monday night and firefighters using inflatable rafts helped move 10 residents to safety from houses in Blackbrook Road.
Gary Evans, manager of Blackbrook Test and Service Centre in St Helens, said his garage was flooded with about 2ft (90cm) of water.
He was forced to usher customers on to a ramp and lift it up towards the roof to keep them out of the water.
"I was out on a breakdown recovering a vehicle that had been stuck in water when I got a call saying the brook had burst the banks and could I get back," he said.
"I was back within 20-25 minutes and in that time there was about 12in of water inside the garage.
"We were trying to take what we could and salvage it, but it was probably about 2ft deep by then."
He said workers at the garage tried to move equipment away from the rising water but a lot of damage was done.
"Things that couldn't be moved have all gone.
"We saved computers and things that we could, but we had so little time, it came in so quickly we saved whatever we could.
"It was devastating, to see your business going under water."
Flooding in Fouracres, Maghull, also led to the power being turned off as a precautionary measure in 36 homes.
In Dutton, near Frodsham, the Trent and Mersey Canal breached and parts of the towpath broke off.
Cheshire Police warned motorists to avoid the areas around the canal in both Dutton and Middlewich.
'I was panicking'
Janet Fitzpatrick, from Marchweil Close in Ellesmere Port, said part of her front drive had caved in because of the water.
She said the block paving collapsed and she was concerned the water may have gone into the foundations of her house.
"The water was right up to the wall, so obviously it has been seeping in underneath and it has just made the bricks collapse unfortunately," she said.
"I was panicking, I thought it was going to come into the house and cause all kinds of damage.
"I am just worried that the water might have seeped into the foundations basically."
The floods have led to disruption on the roads and on public transport.
Parkgate Road has been closed in Chester at the A5480 junction, as has College Street in St Helens, between the Hill Street junction and the Kingfisher Drive junction.
Valley Road in Kirkby has also been closed between the Bewley Drive junction and the Cherryfield Drive junction because of flooding.
Flooding has also caused the closure of the A571 College Street in St Helens between the Hill Street junction and the Kingfisher Drive junction.
There were problems on train services between Crewe and Chester, and Northern Rail said services between Manchester Piccadilly and Newton-le-Willows were affected due to flooding at Patricroft.
Merseyrail services between Rock Ferry and Chester and between Rock Ferry and Ellesmere Port were suspended for a time due to flooding at Hooton.
Heavy downpours across England have resulted in homes being evacuated, disruption to train services and school closures while many roads have been closed.
The Met Office said the past 48 hours had been the most intense September storm for 30 years.