Hillsborough: Officers 'reassured' by judge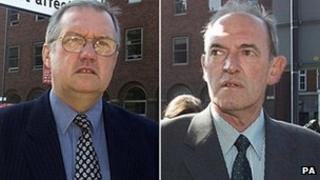 Two police officers accused of manslaughter after the Hillsborough disaster were told they would not face jail before the case was heard.
The comments, made by Mr Justice Anthony Hooper, were published in The Hillsborough Independent Panel report.
The Hillsborough Family Support Group brought the private prosecution against Ch Supt David Duckenfield and Supt Bernard Murray in 2000.
The pair were in charge when 96 Liverpool fans died in April 1989.
At the end of the trial, held at Leeds Crown Court, Mr Murray was found not guilty and a verdict could not be reached on Mr Duckenfield.
At the time, Mr Justice Hooper had rejected an application to halt the prosecution from the officers' defence team.
But he also said he wanted to reassure the two former officers and reduce their anguish, especially as if they were jailed there was a "considerable risk of serious injury if not death at the hands of those who feel very strongly about Hillsborough".
'Unprecedented' move
He stated that if the former officers were found to be guilty of manslaughter, neither would face a prison sentence.
The assurance, however, could not be disclosed until after the trial.
Merseyside solicitor David Kirwan said it was "almost unprecedented" that a judge would assure defendants in a trial.
He said: "A judge would never make any comment before a trial or during the trial about the effect of the prosecution on a defendant.
"He would be very loathe to say anything about, say for example, a witness in a case that would influence a jury in any way.
"A judge has to be very, very impartial, and what you have described is a very, very great departure from that impartiality that we expect."
The BBC has contacted the Judicial Office for Mr Hooper's reaction, but was told judges will not comment on past cases.
The report into the Hillsborough disaster, published on 12 September, revealed a police cover-up which attempted to shift the blame on to the victims.
Margaret Aspinall, chair of the Hillsborough Family Support Group who lost her son James in the disaster, said it was just another example of how badly the families of the 96 victims were let down.
"Every day there are revelations but there are a lot of those revelations that ordinary people don't realise we already knew," she said.
"Obviously we didn't know the magnitude of it all and it just gets bigger and bigger.
"It shows me what kind of a system we were living in at the time."