Liverpool's 2012 athletes honoured at town hall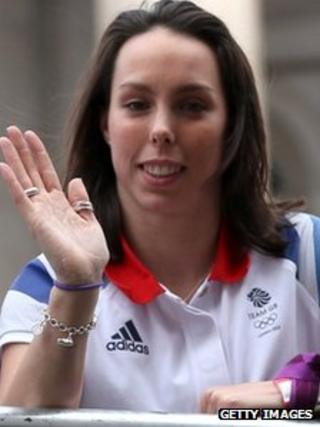 Olympic and Paralympic athletes from Liverpool have been honoured at a civic reception at the city's town hall.
Gymnastics bronze medallist Beth Tweddle and boxer Natasha Jonas were thanked by Lord Mayor Sharon Sullivan for their part in London 2012.
Paralympian athlete David Devine, cyclist Lora Turnham and wheelchair basketball competitor Dan Highcock also received honours.
Thirty-three Team GB athletes were from Liverpool or trained in the city.
Hannah Whelan, who trained with bronze medal winner Beth Tweddle at Park Road Lifestyles gym in Toxteth, also received an honour.
Each of the athletes received a scroll recognising their participation in the Games.
'Fantastic legacy'
Mrs Sullivan said: "This has been a bumper sporting summer and for athletes from, or connected, to Liverpool to be part of the biggest games in the world makes me hugely proud.
"These individuals are an inspiration to us all and as a result of their outstanding achievements, I am sure they have encouraged a huge number of people, young and old, to get active which is a fantastic legacy of the Olympics and Paralympics."
Mr Devine said it was wonderful that Paralympians were celebrated on an equal footing to Olympians.
"With GB doing so well in the Olympics I think everyone's got the buzz," he said.
"I think people's eyes have actually been opened.
"Paralympic sport is just, they don't train any harder or any less, it's just the same except we have disabilities. It was just good for everyone to get behind us."