Knowsley Sonae chipboard factory closure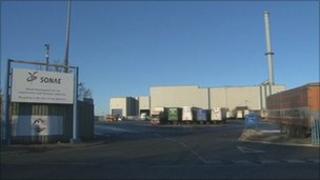 The Sonae chipboard plant in Merseyside has announced it is to close immediately, with the loss of 220 jobs.
Sonae Industria (UK) Ltd has reached the end of a 90-day consultation process on the future of its Knowsley factory.
Three contract workers died at the site in the past three years, and a large fire caused extensive damage last year.
The company said delays in rebuilding the site after the blaze had led to reduced production levels.
Planning permission allowing part of the factory, which opened in 2000, to stay was granted by Knowsley Council in July, but the firm said delays in its approval were unfair and had wasted resources on both sides.
The council said it did not accept there had been a negative impact on the business as it had continued to operate throughout 2012.
'Devastating blow'
Knowsley's Labour MP George Howarth tabled a Commons Early Day Motion last year claiming the complex posed "a considerable risk" to the public, workforce and fire service following a series of accidents and fires.
Nigel Graham, Sonae managing director, said: "It is with great sadness and regret that a final decision has been taken to close our Knowsley manufacturing plant, following in-depth consultation with employees and trade union representatives.
"The decision is the result of long delays to the reconstruction of the factory due to the political and planning difficulties and the reduced and unsustainable capacity levels that have ensued.
"No further manufacturing will therefore take place at the plant after 14 September and all but a small element of the workforce will leave the company from today.
"We have a loyal and committed workforce and our employees have been doing everything in their power to maintain operations. Unfortunately however, our trading position is no longer commercially viable."
He said the company intends to continue supplying the UK market from its other plants throughout Europe.
Unite regional officer Graham Cain said: "This news is a devastating blow for the workforce who were hopeful that the site may be saved.
"Unite has done everything possible for its members to ensure they receive the best redundancy package.
"We will be doing all we can to assist the workers finding alternative employment.
"This is a very sad day for the workers and a further blow to manufacturing in the North West."