Southport Airshow draws 150,000 spectators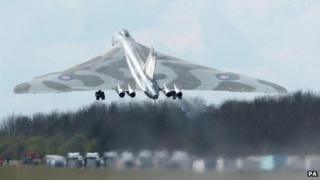 More than 150,000 spectators have turned out for the Southport Airshow, the event's organisers said.
The Vulcan Bomber XH558 was the main attraction of the 21st event, which is the aircraft's only appearance in the North West this year.
It is 60 years since the first flight of the Manchester-made Vulcan, which was designed to carry the atomic bomb.
Europe's most hi-tech military plane, the Eurofighter, was on show and there was also a display from the Red Arrows.
As well as the aerial displays, the Air Show Village featured water walking, assault courses, static aircraft and flight simulators.