MP's concerns over changes to Liverpool's HMP Kennet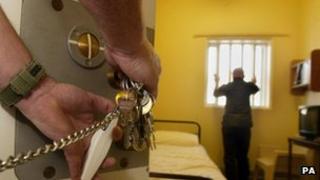 A Merseyside MP has voiced concerns over plans to recategorise HMP Kennet as a semi-open prison.
The Maghull prison will be changed from a category C closed jail to a category D jail, which holds those eligible for release on temporary licences.
The change, which will start immediately, was announced by the Prison Service earlier this week.
Labour MP for Sefton, Bill Esterson, said he was concerned as the prison already had problems with overcrowding.
The Ministry of Justice said the changes would be made with "robust risk management".
The Prison Reform Trust has said HMP Kennet is the most overcrowded prison in England and Wales.
Meeting proposed
The facility was designed to hold 175 male prisoners, but holds 337.
Mr Esterson said: "I have raised a number of concerns with the prison in writing, not least about the overcrowding.
"If the site is recategorised, will Kennet have fewer inmates? If not, how can the prison cope with those numbers in a semi-open prison environment?
"While we are getting assurances from the prison service that there will be no violent criminals at Kennet, we need to know exactly what type of prisoner the jail will house."
Prisons Minister, Crispin Blunt, has written to Mr Esterton to allay some of his concerns and has invited him to visit HMP Kennett.
Kennet is one of two jails to be recategorised, along with HMP Featherstone in Wolverhampton.
While the physical security and make-up of the two jails will not be altered, the category D prisoners will be able to be released on temporary licence.
The change will affect prisoners on indeterminate sentences, who have been set a minimum term they must serve before being considered for parole.
These include those sentenced to life in prison with a minimum tariff. Neither jail will hold sex offenders under current plans.
Mr Blunt said: "The prison estate should meet the needs of the prison population.
"Where prisoners have been assessed as suitable for open conditions, wherever possible they should be accommodated in appropriate conditions to progress their reintegration into the community.
"Our first priority remains the protection of the public, and I am committed to ensuring that robust risk management accompanies these projects given the importance of retaining public confidence in the effective rehabilitation of offenders."