Liverpool busking permits to be reviewed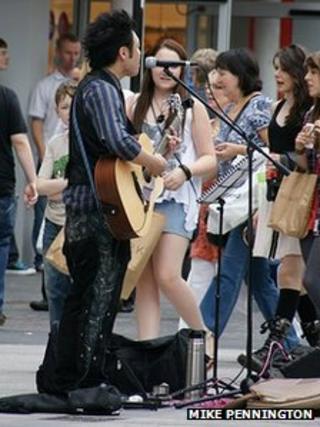 Liverpool City Council will review its new policy on busking after campaigners applied for a High Court injunction barring its enforcement.
The policy, which requires performers to hold permits and book pitches in advance, has been in effect since July.
Campaigners said it lets officials "pull the plug on any busker judged by them to be musically unsatisfactory".
A council spokesman said the injunction was unnecessary as the policy was "always going to be reviewed".
The permits cost buskers £20 annually and performers also need personal liability insurance to busk.
The system covers all city centre buskers and some pitches - in Bold Street, Williamson Square, the Cavern Quarter, Queen Square, Lord Street and Church Street - require pre-booking.
'Strong case'
The application for the injunction was refused by a High Court judge on the grounds that the council had agreed to voluntarily suspended the policy while its own review was carried out.
Solicitor David Kirwan, who is acting on behalf of campaigners, said the council had "the chance to put right a wrong by voluntarily overturning these new measures and, by doing so, [they will] save the city the cost of defending what is indefensible".
"We believe we have a strong case on many levels, not least the fact that Liverpool City Council's decision is unlawful," he said.
He added that he had urged Liverpool's elected mayor Joe Anderson "to scrap the council's decision and - if he wishes to proceed with a regulatory regime - to start afresh, this time with proper consultation with the performers".
'Best way forward'
A spokesman for the council said: "We believe that the policy on busking was introduced lawfully and reasonably, but we do not want to see public money spent on legal proceedings which we feel are unnecessary.
"Given that the policy on street entertainment was always going to be reviewed, we believe that the best way forward would be for all parties to discuss issues of concern during that review which will be completed in September.
"As such, we have agreed that there will be no further implementation of this policy pending the findings of the review."
He added that any bookings made by buskers "during that time will be honoured".