Bodies Revealed exhibition comes to Liverpool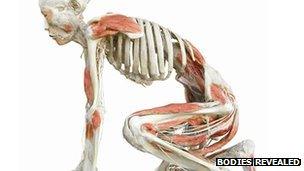 A controversial exhibition showing preserved human bodies will go on display in a Liverpool shopping centre.
Bodies Revealed will feature 275 bodies in different poses, preserved through a technique called polymer preservation.
Dan Thomas, project director, said the exhibition in Liverpool One was "a unique fusion of anatomy, science and art."
The bodies were donated by people who wanted their remains to be used in medical science.
Chief medical director for Bodies Revealed, Roy Glover, said: "The collection of exhibits will allow visitors of all ages the chance to explore and discover the wonders of the human body in a completely new way.
"Bodies Revealed is a demonstration of the complexity, intricacy and sophistication of our organs and how they work.
"We want to inspire people of all ages to think positively about their own body and promote healthy living choices."
Liverpool One estate director Chris Bliss said: "The exhibition has already been staged in cities all over the world.
"While it may not be to everyone's taste, it provides an opportunity for those who have an interest in how the body works to experience this forward thinking exhibition in Liverpool."
The exhibition will run in Paradise Street from September until January 2013.
Related Internet Links
The BBC is not responsible for the content of external sites.