University of Liverpool £65m student accommodation plans revealed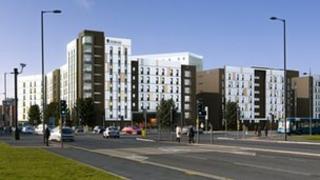 The University of Liverpool has unveiled plans for new student accommodation.
The £65m development will create 1,259 en-suite rooms built on the site of the existing Veterinary Science building in Brownlow Hill and Crown Street.
The development is part of an overall £600m campus investment.
Director of Facilities Management, Steve Dickson said the new accommodation would provide a "world-class student experience".
He added: "The student population is extremely important to the city - students contribute around £300 million to Liverpool's economy every year."
The first phase of investment in residences on Myrtle Street is due to open in September.
The University is also developing new residences at its Greenbank site in Mossley Hill and 18th Century Greenbank House.
Joe Anderson, Mayor of Liverpool, said the development would increase the appeal of the University of Liverpool "to potential students right across the country and the world".
"It will also provide a much needed boost to the city in terms of jobs and training opportunities for local people," he added.
The Veterinary research group based in the Crown Street Building moved into new laboratories in the Liverpool Science Park in July.