Ethel Austin chain in fourth administration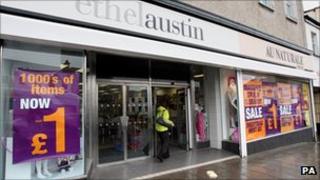 The north England clothing chain Ethel Austin has returned to administration for the fourth time in four years putting hundreds of jobs at risk.
The move leaves around 500 jobs under threat, just one year after the stores group, which has been on the High Street for 78 years, was last rescued.
New administrators Duff & Phelps said redundancies and closures of some of the 48 stores could not be ruled out.
It said the company was continuing to trade while looking for a buyer.
Ethel Austin's board last week warned it intended to appoint administrators.
Council house
The administrators said the chain, which also traders as "Life & Style" had suffered what it called a "marked downturn in sales brought on by the well-publicised economic difficulties facing the UK".
Last year the company was saved by a director of the Blackwells book store chain, Sue Townsend.
The joint administrators, Philip Duffy and Sarah Bell, said they were "urgently" reviewing the company's financial position.
The business was founded by Ethel Austin and her husband George in a Liverpool council house in 1934.
Before the series of administrations which began in 2008, the company had 300 stores employing almost 3,000 staff.