Sir Paul McCartney guitar raises £40,000 for charity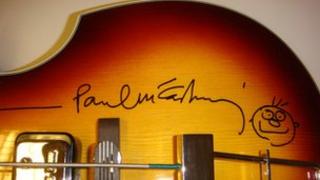 A signed guitar donated by Sir Paul McCartney has been sold at auction raising £40,000 for a music therapy charity.
The Hofner bass is the same model which became Sir Paul's signature instrument when he performed with The Beatles.
He said he was delighted to help the Nordoff Robbins charity with its work "transforming the lives" of vulnerable people across the UK.
The charity holds over 50,000 workshops a year for disabled and ill people.
Organisers say their therapy workshops can allow people with autism or dementia to communicate through music, and others with a range of disabilities to express themselves and gain confidence.