Liverpool fan Phillip Gannon banned for Evra racist abuse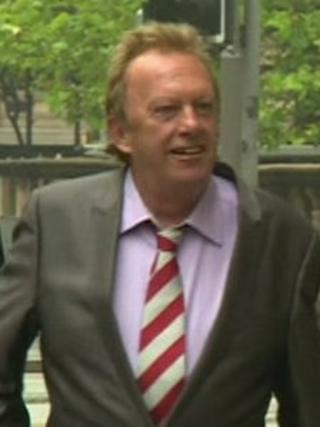 A football fan has been banned from matches for four years after being found guilty of racially abusing Manchester United's Patrice Evra.
Phillip Gannon, 58, of Barmouth, Wales, was also seen on television making a racially offensive monkey gesture, Liverpool Magistrates' Court was told.
The incident took place during a match between Liverpool and Manchester United in January this year.
He will not be able to attend Liverpool or England games under the order.
Rob Girvan, prosecuting, said the incident happened amid a "volatile" atmosphere at Anfield when the two sides met in an FA Cup fourth-round clash.
It was the first game between the Premier League rivals following an eight-match ban imposed on Liverpool striker Luis Suarez after the FA found him guilty of racially abusing the United defender.
'Clearly racist'
Gannon was seen as TV cameras panned over fans in the lower Centenary Stand, showing him gesturing with both hands under his armpits.
The court heard the offences were racially aggravated, despite Gannon's claims that the "monkey" gesture was a reference to "cavemen".
The coverage, which was broadcast worldwide by ITV, spread across Twitter and complaints were subsequently made to police, the court heard.
Another fan sitting behind Gannon at the match heard him aim a racist slur towards Evra in French when he approached the touch-line.
Chairman of the bench, Ray Moore, said both the gesture and the comment were "clearly racist".
The north Wales carpenter and joiner, who was seated close to the pitch, also directed a term of abuse found offensive by the travelling community at Manchester United fans.
The defendant said at the time he was unaware of the connotations of the term he used.
He was found guilty of two counts of using abusive or insulting words within the hearing or sight of a person likely to be caused alarm or distress.
The bench banned Gannon, of Heol Meirion, Barmouth, from attending both Liverpool and England matches and excluded him from Liverpool city centre for four hours before and after games.
He was also fined £180 and ordered to pay prosecution costs of £300.
Liverpool Football Club said: "This sort of behaviour will not be tolerated and we will do all we can to eradicate this kind of behaviour."
The club are thought to be considering their own ban for the supporter, although it is as of yet unclear how long this may be.