Mayor appointed OBE in Queen's Birthday Honours list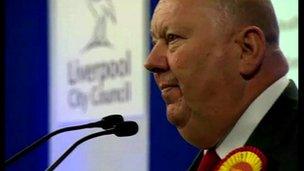 Liverpool's first directly-elected mayor has been appointed OBE in the Queens' Birthday Honours list.
Joe Anderson, 54, said he was surprised and humbled to be honoured for services to local government and the community.
Professor Janet Hemmingway, director of Liverpool School of Tropical Medicine, is also among those honoured.
She has been appointed CBE for services to the control of tropical disease vectors, but said the award recognised the work of everyone on her team.
The school opened in 1898 and became the first institution in the world dedicated to research and teaching in tropical medicine.
"It is really nice to get an honour and to have the work recognised that you do," she said.
"You hope this is not just for your work, because there are people who work with me and I see this as a recognition of everything that we do."
She added: "We've got a great team of people who are really out to make a difference in health.
"We've got an organisation that is growing, that has a great reputation and is making a difference and I don't think you can ask for much more than that."
Mr Anderson, who was previously Leader of Liverpool City Council, stood as the Labour candidate in the first direct elections for the city-wide mayor of Liverpool in May.
He has previously been in the Merchant Navy and worked as a social worker, before being elected to the council for the Liverpool Abercromby (now Riverside) ward, where he grew up, in 1998.
He said: "I am very surprised and humbled to receive this honour and regard it as much for the people of the city as for myself.
"I think it is a recognition of the many great achievements Liverpool has made in recent years and for all the determined and talented people of the city."
Among those honoured across Merseyside and Cheshire are the former chief executive of Liverpool Chamber of Commerce, Jack Stopforth, who is appointed MBE for his work in regeneration.
Alison Perry, managing director of Triangle Builders Ltd was appointed OBE for services to the construction industry, and Rex Blundell Ayers was appointed MBE for services to the community in Woolton.
In education, the chair of governors at St Anselm's College and governor at Birkenhead High School, Brian Cummings, was appointed MBE.
Patricia O'Brien, former head teacher at English Martyrs Primary School, Sefton, was also appointed OBE.
Related Internet Links
The BBC is not responsible for the content of external sites.