Olympic Games steam cloud column gets go-ahead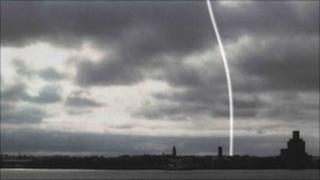 Plans for a large spinning column of cloud to appear over the Wirral estuary have finally been given the go-ahead.
The pillar of steam - called the Column - is one of 12 artworks across the UK celebrating the 2012 Olympic Games.
It was due to be put in place last year but planning permission was delayed due to issues with it being on the flight path for Liverpool John Lennon Airport.
Wirral Council granted planning permission on Thursday but it is not yet known when it will be put in place.
Created by artist Anthony McCall, the £500,000 installation was commissioned by the Arts Council for the Cultural Olympiad, an arts and culture project running alongside the London 2012 Olympics.
It is planned to rise 1.2m (2 km) into the air above the Wirral waterfront on the Mersey, standing at Birkenhead's East Dock directly opposite the Pier Head in Liverpool.
As the steam cloud will be on the flight path to John Lennon Airport, the plans had to be given the go ahead by the Civil Aviation Authority.
It has since carried out tests and said it is satisfied there are no safety concerns.
Concerns about the possible risk of Legionella were also raised by the Port Health Authority, but a risk assessment was carried out and the application was passed.
A spokesperson for Arts Council England said: "It's excellent news that planning permission has been granted for the Column.
"The team can now concentrate on the final phases of build and testing, and on setting a launch date."