Liverpool mayor Joe Anderson rejects £80,000 salary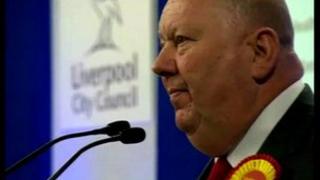 Liverpool's mayor Joe Anderson has rejected a recommended £79,500 salary - which would have been the highest pay for a mayor outside London.
An independent panel, made up of six people not connected to the council, made the recommendation based on the responsibilities of the new post.
Mr Anderson has instead suggested a salary of £66,000 - he was previously paid £52,000 as leader of the council.
The proposal is to be discussed by councillors at a meeting next week.
'Making a difference'
He said: "When I stood for elected mayor I made it clear that I was not seeking a pay rise.
"It is a big job with big expectations and the people of Liverpool rightly expect me to deliver.
"But it is also a huge privilege and honour, and what motivates me is making a difference to people's lives, not financial reward.
"It is for that reason that I have decided that the allowance I take will be no more than the salary I received two years ago when a social work manager at a school in Sefton and my allowance as opposition leader."
There is no national system to set the salary for directly-elected mayors.
Chair of the independent panel, David James, said there were big differences between Mr Anderson's role as leader of Liverpool City Council and the new one as directly elected mayor.
Economic climate
"It brings with it considerable more responsibility because the new mayor has been elected by the whole of the city. This gives him a mandate to speak for the entire city, not just at home but also abroad.
"This brings with it a duty to deliver strong, visible leadership and be an ambassador for Liverpool.
"We have also noted that the mayor of Liverpool has new powers and responsibilities negotiated as part of the City Deal.
"This makes it the second most powerful post behind that of the mayor of London and sets it apart from other directly elected mayors in England."
He added that the panel was mindful of the current economic climate and the financial challenges facing public services, and had taken this into account when proposing the figure.
Liverpool City Council chief executive Ged Fitzgerald said: "The council is to consider a recommendation that has not been made by any elected members or officers from Liverpool City Council and has had no involvement from the mayor.
"It has been devised by an independent group of people who have taken an impartial and dispassionate look at the role and its responsibilities before reaching a judgement.
"It will be up to members of the council to vote on whether or not they are in favour of the recommendation."
A decision will be taken at the council's annual general meeting on 23 May.