Giant puppets in Liverpool for Sea Odyssey Titanic event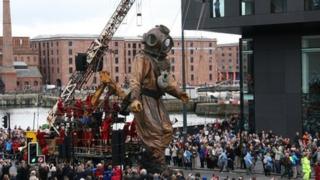 Three giant puppets have taken to the streets of Liverpool to play out a weekend-long street theatre production inspired by the Titanic.
A 30ft (9m) wooden puppet of a little girl "woke up" in Stanley Park before walking through the north of the city with her dog, papier mache puppet Xolo.
A 50ft (15m) puppet of her uncle later emerged from Salthouse Dock and set off through the city centre.
More than 250,000 people are expected to attend the Sea Odyssey event.
It has been created by Nantes-based French company Royal de Luxe as part of Liverpool commemorations for the recent 100th anniversary of the sinking of the Titanic.
It was inspired by a letter written by a young girl to her father, who was a steward on the Liverpool-registered liner.
The event will show the girl, called Little Girl Giant, walking around Liverpool on a quest to learn news of her father.
Spectators saw her uncle - clad in a deep sea diving costume - emerge from Salthouse Dock with letters from the Titanic.
Little Girl Giant and her dog were "woken" by young musicians from Liverpool Philharmonic's In Harmony project at the start of the event at about 09:40 BST.
They moved through the city, coming to rest at Everton Brow at 12:30 BST.
They set off again at 16:30 BST, walking down Lime Street and through Liverpool One arriving at the Echo Arena on the waterfront at 19:30 BST, before going to "sleep" at the Kings Dock at 20:00 BST.
Thousands watched as the girl's uncle made his way past Liverpool waterfront and headed on a three-mile journey to Stanley Park in the Anfield area of the city.
'Wow event'
"I saw the spider in 2008. I'm really glad they've put on another massive event again because it feels we've really missed those moments where everyone gets together on the street and goes 'wow'," said Oonagh Jaquest, from Dingle.
Jim Liggett, from Rock Ferry, added: "We just love it. It's been two years in the making; the engineering and the skill is out of this world."
The uncle walked in front of the Liver Building and is moving north through the city centre, past Liverpool Town Hall, to Stanley Park.
The puppets will roam across the city separately over the weekend, covering some 23 miles (37km), before meeting up on Saturday night and sailing down the River Mersey together on Sunday.
They are made from poplar, lime wood and steel, have eyes made from street lights and hair made from horse hair.
The dog puppet is made from steel and papier mache, and is 30ft (9m) tall.
They are being moved by a team of 110 puppeteers and crane operators, who refer to themselves as Lilliputians, after the race of tiny people who come across a giant in Jonathan Swift's 18th Century novel Gulliver's Travels.
Jean-Luc Courcoult, Royal de Luxe artistic director, said: "Organising it has almost been like a game of chess.
"We need big wide open spaces for the the public to see.
'Magical theatre'
"Some roads were not big enough for the giants, so we have had to be strategic about where to go.
"Two hours of walking with giants is really physical work."
The leader of Liverpool City Council, Joe Anderson, said: "This will be a magical piece of theatre, the likes of which many people will never have seen before.
"To work with such a world-renowned company as Royal de Luxe is a real coup for Liverpool and it's wonderful we can mark this important anniversary with an unforgettable event."
The giants have previously appeared in Nantes, Berlin, Santiago in Chile and Guadalajara in Mexico.
The girl puppet was also used in the 2006 Sultan's Elephant in London, which was seen by 1.5 million people.
The Sea Odyssey is the final event to use European legacy funding from the Liverpool capital of culture year in 2008.
Many city centre and north Liverpool roads will be closed during the event.
A full list of road closures over the three days is on the Liverpool city council website .
Liverpool Titanic Girl, a programme about the true story of the little girl whose letter inspired the production, will be broadcast on BBC One at 19:30 BST on Wednesday.