Titanic disaster: The millionaire and his valet who died 'like gentlemen'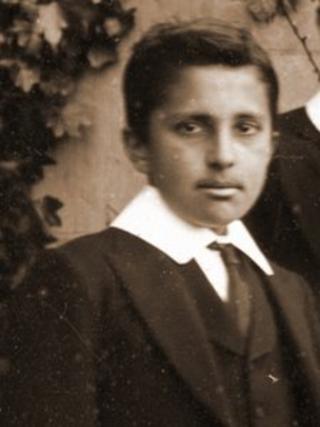 The story of the millionaire and his valet refusing a seat on a Titanic lifeboat has been told many times.
Now, after an appeal for information by the Merseyside Maritime Museum, the first photograph has surfaced of Victor Giglio, the Liverpool manservant to millionaire Benjamin Guggenheim.
According to Titanic lore, as the ship sank, the pair gave up their seats on a lifeboat to "go down like gentlemen".
Their act of courage and selflessness has become one of the best known stories of the Titanic disaster.
'Met death bravely'
The photo emerged during a search by the museum for information on Mr Giglio's life in Sefton Park to use in its exhibition, Titanic and Liverpool: the Untold Story.
It was in Ampleforth College, Yorkshire, that chief archivist Father Anselm Cramer found the image in the library of the Benedictine boarding school Mr Giglio attended.
Although the photograph shows Mr Giglio aged 13, it gives historians an idea of what he may have looked like when he died aged 24.
Fr Cramer also found tributes to the former boarder in the school's journal from 1912 and 1913.
In the Ampleforth journal 1912, it says: "...those who knew Giglio at School will not require any assurance that he met death bravely and even willingly rather than, perhaps, take the place of some one else in the lifeboats."
Passengers of the Titanic reported the two men deliberately dressed in evening clothes as the liner slowly sank.
Many survivors recalled their bravery and Mr Guggenheim saying: "We've dressed up in our best and are prepared to go down like gentlemen."
Married with three sons, Mr Guggenheim was a notorious playboy who spent a lot of time travelling, ostensibly on business.
Like many other passengers, he and Mr Giglio slept through the impact of the iceberg.
After venturing up to the boat deck, they returned to their First Class suite to change into evening wear - dark formal suits, starched shirts and ties.
Playboy lifestyle
Fr Cramer said the image of Mr Giglio came from a school photograph taken during his time at the college.
"The Titanic is a fascinating story. It's a nice find because it links us with a notable event."
In another message of condolence a former classmate wrote: "I did not expect to see his name in the list of survivors. Giglio was unlikely to be saved when any were lost."
Mr Giglio was the youngest of four sons.
It is thought his mother was born in Alexandria, Egypt, and his father in Italy. He had a middle class background and his his father was in the cotton industry.
Merseyside Maritime Museum is still keen to find out more about Victor Giglio's life before his death and how he managed to get a top job with a millionaire playboy like Guggenheim.