Letter sent from Titanic goes under hammer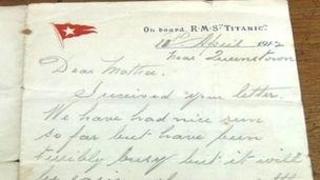 One of the last letters to be sent from the Titanic is expected to fetch up to £12,000 at auction.
The letter, written on 'On board RMS Titanic' headed paper, was sent by ship storesman Charles Frederick Morgan, from Birkenhead, Wirral, to his mother.
It was written on 11 April 1912 and received a few days after 15 April, when the writer was one of about 1,500 to lose their lives when the ship sank.
It will go under the hammer at Maxwells Auctioneers in Stockport later.
Two original photographs of Mr Morgan and a folder of family research are also included in the sale.
Mr Morgan, who was born in 1868, led a varied life, at one point working in South Africa where he volunteered and served in the Boer War.
He served on a number of ships before joining the Titanic on 4 April 1912.
The brief note he wrote to his mother was written as the ship was moored at Roche's Point off Queenstown, West of Ireland, for two hours.
Max Blackmore, from Maxwells Auctioneers, said: "It must be one of the last letters to leave the Titanic because it is signed near Queenstown, which is now called Cork.
"It actually anchored there for two hours before they set sail across the Atlantic, just to have letters taken off the ship.
"At the bottom of the letter it says 'See you on the 27th", which of course he never did.
"The 4th of April when we are going to sell it is 100 years to the day to when he actually signed on on the Titanic.
"It is a personal note, dashed off at the last minute, on Titanic notepaper, so it is an interesting piece."
The auction is due to take place at 15:00 BST.