HMS Liverpool is decommissioned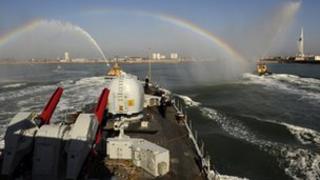 HMS Liverpool has been decommissioned at a ceremony in Portsmouth after 30 years' service in the Royal Navy.
The Type-42 destroyer was commissioned in 1982 and built in Cammel Laird in Birkenhead, Wirral.
The warship, which has travelled more than 921,700 nautical miles, will be replaced by the new Type-45 class.
Commander Colin Williams said: "It's hugely emotional, it's a very sad day. The ship has done a fantastic job for the nation."
HMS Liverpool was stationed in the Falklands in 1982 following the conflict, and took part in the invasion of Iraq in 2003.
In 2011, during service in the war in Libya, the ship became the first to be fired on since the Falklands War.
It will be moored in Portsmouth while the Ministry of Defence negotiates a sale.