Anfield Village regeneration set to get green light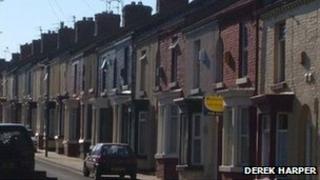 Liverpool City Council is set to approve proposals for a major regeneration project in Anfield.
Plans to refurbish properties off Walton Breck Road, close to Liverpool FC's stadium, are to be put to a cabinet meeting later.
The area, which contains more than 600 properties, will be renamed Anfield Village.
Councillor Ann O'Byrne said the refurbishment of the area was "long overdue".
Most of the properties in the area, which lies between Back Rockfield Road, Walton Breck Road, Sleepers Hill and Saker Street, are small terraced houses in poor condition with high vacancy rates.
Options being explored include creating larger homes by knocking two properties into one and creating space for gardens in the remaining properties.
Ms O'Byrne said the aim was "to accelerate the regeneration of the area, providing modern, affordable homes which people want to live in".
"Working together with residents, we can deliver long overdue housing improvements for Anfield and start building a brighter future for the area," she said.
If the plans do get the go ahead, work is scheduled to begin in the summer.