Titanic anniversary: Sea Odyssey route revealed in Liverpool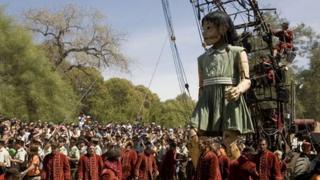 More details have been revealed about an event in Liverpool involving two giant puppets to mark the 100th anniversary of the Titanic's sinking.
As part of the three-day Sea Odyssey event, a giant puppet will emerge from the River Mersey.
A second puppet - the "niece" of the first - will roam through the city's streets looking for him.
The free event, by French company Royal de Luxe, will take place between 20 to 22 April.
The White Star liner, registered in Liverpool, sank on its maiden voyage to New York on 15 April 1912.
The theatre production will follow a 23-mile route in and around Anfield and Everton, Stanley Park and the city centre.
It begins with the 30ft Little Girl Giant "waking up" in Stanley Park on Friday, 20 April at 09:30 BST.
The puppet was part of the 2006 Sultan's Elephant event which was held in London.
Puppets roam
The plotline of the event is that the girl is on a quest to receive news about her father, a stowaway who died in the Titanic disaster, and starts a journey through the city.
At 14:00 BST, at Albert Dock, her uncle will arrive in the city.
The giant puppets will then roam across the city over the weekend before meeting up and sailing down the River Mersey together on the Sunday.
Liverpool City Council leader Joe Anderson said he expected "hundreds of thousands" of people to descend on the city over the three days.
He said: "This story is a sensitive portrayal of how a young child is affected by the loss of her father in one of the worst maritime tragedies in history - the sinking of the Titanic."
Royal de Luxe created the giant spider for the 2008 La Machine event in Liverpool.
Mr Anderson added: "To have the world's leading street theatre company bring the event to Liverpool is a real coup and another example of how internationally renowned artists want to showcase their work against the fantastic backdrop of our city."
Liverpool is one of five cities holding Titanic-related events in 2012. Events are also taking place in Belfast, Southampton, Cherbourg and Cobh, which all had connections with the ship.
The White Star liner RMS Titanic sank when it struck an iceberg on its maiden voyage from Southampton to New York on 15 April 1912. More than 1,500 people lost their lives in the sinking.