Merseyside Maritime Museum unveils Titanic exhibition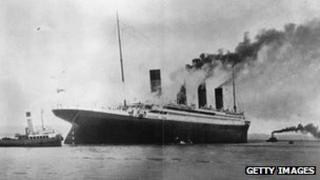 Rarely-seen items linked to the Titanic are to be shown in Liverpool to mark the 100th anniversary of its sinking.
The display, at the Merseyside Maritime Museum, includes a first-class ticket, thought to be the only one still in existence.
It belonged to a vicar who cancelled his trip on the doomed ship when his wife fell ill the day before it sailed.
More than 1,500 people lost their lives after the ship sank in the Atlantic Ocean on 15 April 1912.
Reverend Stuart Holden, from London, had the ticket mounted and kept it above his desk until his death in 1934.
Told from the perspectives of the key personalities involved, the exhibition explores Liverpool's links to the disaster.
Many crew members and officers onboard were from the city, and the ship was registered there with the city's name inscribed on its stern.
Letters and postcards sent from passengers are also on show, as well as items salvaged from the wreck.
Rachel Mulhearn, director of Merseyside Maritime Museum, said: "Not only was the Titanic's sinking a major world event, the tragedy was a bitter blow to the port and the people of Liverpool.
"The new exhibition lifts the lid on this largely overlooked turmoil in the wake of the sinking which resounds to this day."
Titanic and Liverpool: The untold story opens to the public on Friday and will run at the museum for a year.