Measles on Merseyside: Outbreak 'largest since MMR introduced'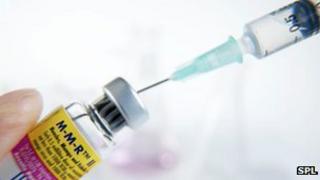 An outbreak of measles on Merseyside is the largest in the North West since the MMR vaccine was introduced, the Health Protection Agency (HPA) has said.
There are now 113 confirmed cases of the illness and another 43 cases are being looked at.
Twenty-eight people needed hospital in-patient treatment and three of these, two adults and a child, were extremely ill but have now recovered.
The HPA is urging parents to ensure children are fully vaccinated.
Two doses of the MMR vaccine give protection against measles, mumps and rubella.
The HPA declared an outbreak of the illness last month after six people needed hospital treatment.
'Measles spreading'
It said most cases were in children who had not been given the MMR vaccine - which was introduced in 1988 - and babies and toddlers too young to be vaccinated.
Approximately 29 of the confirmed cases are in teenagers and young adults who were not vaccinated as children and 27 cases are in children under the age of 13 months who were too young to be vaccinated.
Dr Roberto Vivancos, a specialist with the HPA's Cheshire and Merseyside Health Protection Unit, said: "Measles is highly infectious and anyone who has not previously been vaccinated is at risk when it gets into a community, as it has done here.
"In this outbreak we have seen measles spreading amongst unvaccinated children, teenagers and young adults and affecting infants and toddlers who are too young to be vaccinated.
"Our advice to teenagers and young adults is to arrange vaccination now. Speak to your family doctor. It's not too late.
"Our advice to parents is, arrange to have your children vaccinated regardless of their ages. If you are not sure if they have been immunised in the past, check with your family doctor."