Wirral's Dome of Home reopens with papal blessing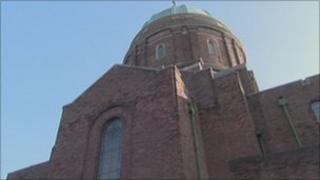 A Wirral church which closed four years ago will be officially reopened later.
Pope Benedict XVI has sent a personal blessing to those attending the Mass marking the revival of Ss Peter and Paul's in New Brighton.
It was closed by the Diocese of Shrewsbury because it was deemed too large and expensive.
A High Mass will celebrated by Monsignor Gilles Wach at 10:30 GMT, with the Bishop of Shrewsbury the Right Reverend Mark Davies preaching.
The church is in the care of religious order The Institute of Christ the King Sovereign Priest.
It was reopened when the Vatican reversed the closure following a local campaign.
The Grade II-listed building, which first opened in 1935, was nicknamed the Dome of Home because it is one of the first things seafarers see when they sail back to Liverpool.
Although its side chapel was recently reopened for use, the main part of the church needs significant investment and repairs, the diocese said.