Liverpool Cathedral 'tries risky things'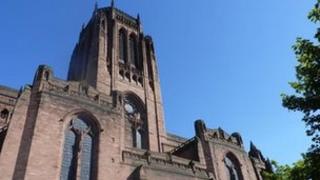 At any time it would be strange, but on Halloween, a man stepping out of a coffin in a cathedral, must have been a particularly unnerving site.
The man was Richard White, Liverpool Cathedral's Canon of Missions, and the performance part of A Night of the Living Dead.
It was a re-interpretation of the gospel story that began with the coffin and ended in an almost traditional communion service.
The Halloween service was the latest in a programme of events that take place in the cathedral as part of Liverpool Diocese's drive to connect more people with God.
"We call ourselves a safe place to do risky things," the Reverend Stuart Haynes from Liverpool Cathedral said.
'For the community'
The UK's largest cathedral has been the venue for art exhibitions, concerts, graduations and club nights.
It recently hosted a labyrinth to encourage prayer for the local and international economy and its impact on people's lives.
Built in Gothic style, the building is relatively modern in cathedral terms.
Construction began in 1904, and following interruptions for two World Wars, was finally completed in 1978.
"The cathedral was built for the community and it is a testament to the community," said Mr Haynes.
"It's about welcoming and encountering god and people do that in lots of different ways.
"There's an ability for people to explore their understanding of god and faith in all these matters.
"Jesus took risks and brought out the message to the people."
The cathedral has at times courted controversy, in 2008 artist Tracey Emin created a large pink neon sign "For You" above the cathedral's great west doors.
Written in Emin's handwriting, with the words "I felt you and I knew you loved me", it won the Art and Christianity Enquiry award, which highlights religious faith in art, design and architecture.
In 2009 the cathedral's bells, the highest and heaviest peal in the world, rang out the tune of John Lennon's anti-religious song Imagine.
It was, said Mr Haynes, a "really significant event".
"As an anthem that questions god and heaven, it got a lot of controversy.
"But we were able to say: 'John Lennon was only saying Imagine. Imagine there is a heaven'
"We could use that event and the publicity it created to begin a debate about god in society."
In 2010 the cathedral was the one of the venues for the city's contemporary art festival the Liverpool Biennial.
A thousand glass bells were hung from the ceiling of a mausoleum in the grounds by Brazilian artist Laura Belem, and a video installation was set up in one of the cathedral's rooms.
"We do everything, a couple of years ago the whole floor area was taken up by an art display by a Russian artist," Mr Haynes said.
"We're used for awards ceremonies quite a lot.
"We have the graduations for universities here. We have had the football club's award presentations
"There are concerts and the Liverpool Philharmonic performed Mahler 8, which they couldn't accommodate in their concert venue, here.
"And we have arts and cultural events, we are doing events this year to link to the Titanic commemorations and to the Diamond Jubilee.
"We think it creates an ability for people to explore their understanding of god and faith in all these matters.
"People aren't going to only encounter god by just saying 'Come to worship'."