Merseyside pair jailed for handling stolen LS Lowry art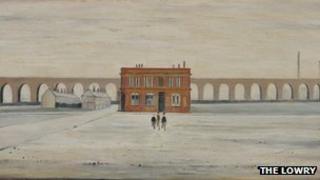 Two men from Merseyside have been jailed for handling stolen paintings by the artist LS Lowry worth £1.7m.
Kevin Marlow, 29, of Halby Road, and Gerard Starkey, 50, of Southport Road, both of Bootle, had earlier pleaded guilty to handling stolen goods.
The Lowrys were among 14 works stolen from an art dealer's home in Cheadle Hulme, Greater Manchester, in 2007.
The paintings were recovered by police following a raid on a property in Halewood, Merseyside, in July 2011.
Marlow was jailed for six and a half years for handling the paintings and drug offences, while Starkey was jailed for three years and three months for storing the paintings.
Seven paintings were discovered at the address on Arncliffe Road, Halewood, along with £4,000 in cash.
'Nationally recognised pieces'
Around 10kg of amphetamine paste with a street value of approximately £100,000 and about 100,000 ecstasy tablets with a street value said to be about £300,000 were also found.
The Lowry artworks included two masterpieces, The Viaduct and Tanker Entering the Tyne.
Sentencing Starkey and Marlow at Liverpool Crown Court, Judge Graham Morrow QC said there was no suggestion any of the defendants in the case were behind the robbery of the artworks.
He described Starkey and, to a lesser extent, Marlow as "organisers" who had been caught moving the paintings so they could be viewed by potential buyers.
He said: "I am sure both of you knew that you were handling original Lowrys, although I am not suggesting you knew about their precise value."
Det Supt Jason Hudson from the North West Regional Crime Agency, Titan said: "They are nationally recognised pieces of artwork.
"They would be very difficult to get rid of on the open or criminal market.
"It serves as a message to criminals that if you steal valuable artworks they are not going to be able to get rid of them."
In March 2009, Casey Miller was jailed indefinitely at Manchester Crown Court for his role as a "useful piece of muscle" in the theft of the paintings.
A number of the recovered paintings are now displayed at the Lowry Centre in Salford.