Liverpool cruise liner terminal building begins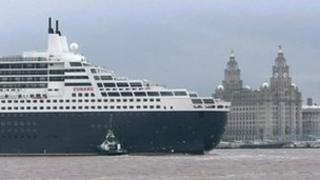 Work has begun on a temporary baggage and customs building which will allow cruises to start and end in Liverpool.
The city was given permission to become a cruise terminal at the beginning of March after a cash row was settled.
Cruises will start and stop at the city from May. It has previously only been allowed to be a port of call for ships.
Council leader Joe Anderson said it was "right and proper" the city had a chance to become a "leading cruise liner destination".
The beginning of building work follows Liverpool council agreeing to pay back £9m in government grants for the building of its existing terminal, after rival port Southampton claimed it was unfair for the city to use public money to compete in the cruise liner market.
The council will lease the temporary building on Princes Parade during the cruise season from 2012 to 2015, while it determines whether to build a permanent site.
It will provide check-in, baggage drop and reclaim, as well as customs and border facilities, and a new internal road will also be created.
The first turnaround cruise vessel - the Ocean Countess - is scheduled to use the facility on 29 May, with a further 12 visits scheduled during the 2012 cruise season.
Mr Anderson said he was happy "cruise liners are coming back to Liverpool".
"Now we need more than one berth, and we need to develop an iconic cruise liner terminal building to cement Liverpool as a leading cruise liner destination," he said.
"It is right and proper that a city with such a proud maritime heritage as Liverpool is able to have big vessels stopping and starting in the river.
"It will provide a big boost to our tourism industry which in turn will support and create many jobs."