Measles outbreak on Merseyside: More cases confirmed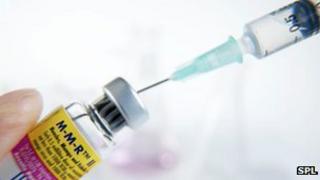 More cases of measles have been confirmed on Merseyside, the Health Protection Agency (HPA) has said.
There are now 85 confirmed cases and a further 44 probable cases are being investigated.
The HPA declared an outbreak of the illness last month after six people needed hospital treatment.
It said most cases were in children who had not been given the MMR vaccine and babies and toddlers too young to be vaccinated.
Teenagers and young adults who were not vaccinated as children are also at risk, it said.
Parents are being warned to ensure children are fully vaccinated.
Dr Roberto Vivancos, from the HPA's Cheshire and Merseyside Health Protection Unit, said: "Measles is highly infectious and unvaccinated children are at risk when it gets into a community, as it has done here on Merseyside.
"Furthermore, when unvaccinated older children pick up an infection they can pass it on to vulnerable infants who are too young to be vaccinated. That would appear to be what's happened in this outbreak."
Measles is an infectious viral illness that is spread when infected people cough or sneeze.
The most common symptoms are fever, cough, sore eyes and a rash that develops 3-4 days after the onset of illness, starting with the face and head and spreading down the body.
There was only one confirmed case of measles on Merseyside in the first six weeks of 2011.