Brookside's Brian Regan jailed for Bahman Faraji murder lies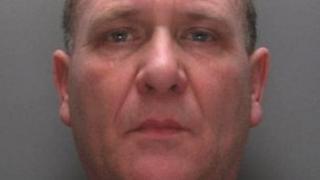 Ex-Brookside actor Brian Regan has been jailed for lying about his part in a gangland killing.
Regan's sentence can be revealed following the conviction of Jason Gabbana, 29, for ordering the murder of a nightclub doorman in Liverpool.
Bahman Faraji, 44, was shot dead at close range outside the Belgrave public house in Aigburth in February 2011.
Regan, 54, who played Terry Sullivan in the soap, was jailed on 25 January for four years and 10 months.
Gabbana, of Score Lane in Childwall, was found guilty of murder at Liverpool Crown Court.
Mr Faraji was accused by Gabbana's defence of drug dealing and running an illegal protection racket.
Snorting cocaine
Regan, St Marys Road, Garston, Liverpool, was cleared of murder but convicted of perverting the course of justice after it emerged he lied to police when he was first arrested, telling them he was with his partner Christine Lines at the time of the murder.
In fact he was snorting cocaine in a car as father-of-one Mr Faraji was shot dead yards away at close range on the evening of 24 February 2011.
Regan admitted driving gunman Edward Heffey to and from the hit but told the jury he did not know his passenger was carrying a sawn-off shotgun and was planning to kill Mr Faraji.
Regan also disposed of a pair of gloves he wore on the night.
The sentence, following a trial which ended in January, could not be reported until the conclusion of the Gabbana case.
Gabbana was convicted of murder by an 11 to one majority.
Heffey, 40, of Beloe Street, Dingle, Liverpool, and Simon Smart, 32, of Kylemore Way, Halewood, Liverpool, who police said set up the killing, were also convicted of murder at Liverpool Crown Court.
Regan's best friend Lee Dodson, 42, of Logfield Drive, Garston, Liverpool was cleared of murder.
The trial heard Regan was hooked on cocaine and began dealing it to fund his habit as his showbiz career declined.
Courtroom fracas
After he admitted driving the gunman, the court ordered security to be stepped up around Regan and security guards sat between him and the rest of the defendants.
He was also designated a "vulnerable prisoner" and held in an isolation wing in jail.
When Heffey's guilty verdict was delivered, a woman and a young man in the public gallery angrily interrupted proceedings and had to be bundled out by police.
Heffey appeared to lunge towards Regan in the dock and was swiftly taken down to the cells by security officers.
The jury was unable to reach a verdict on Regan's girlfriend Christine Lines, 48, also of St Mary's Road, Liverpool, who was accused of perverting the course of justice by helping the ex-actor dispose of the gloves.
The matter was ordered to lie on file and she will not face a retrial.
Mother-of-one Lines admitted permitting or suffering her premises to be used in the supply of cocaine and was sentenced to 30 months imprisonment suspended for 12 months, with a 12-month supervision requirement.
Gabbana, Smart and Heffey will be sentenced either Friday or Monday, Mrs Justice Davies said.