Man rescuing dog pulled from Crosby Marine Lake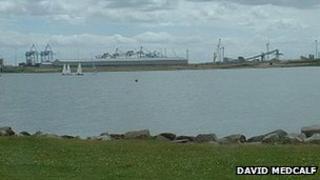 A man who jumped into a Merseyside lake to rescue a dog was saved by the "quick action" of firefighters.
The 30-year-old man became trapped under a pontoon on Crosby Marine Lake in Waterloo on Saturday afternoon.
After fire crews from Crosby, Kirkdale and Croxteth arrived, two firefighters wearing water gear pulled the man and dog out of the lake.
Merseyside Fire's James Murphy said they had been "able to get to the casualty with a minimum of fuss".
A Merseyside Fire and Rescue Service spokesman said the man was believed to have been in the water for around 30 minutes and was suffering from hypothermia when he was brought out.
He was taken to Aintree University Hospital for treatment.
After rescuing the man, firefighters removed timber decking from the pontoon to retrieve his dog, Lola, from the water.
The spokesman said the dog was believed to have been unharmed and had been handed to a member of the man's family.
Mr Murphy said the "quick action of the crews was the key to the success of this rescue".
"The firefighters were able to get to the casualty quickly with a minimum of fuss," he said.
"Another ten minutes and he could have possibly been unconscious."