Merseyside police chief extends Hillsborough 'sympathies'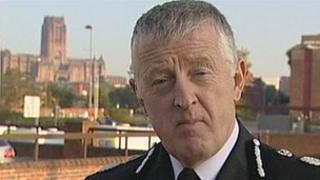 A senior officer has extended Merseyside Police's "deepest sympathies" to Hillsborough victims' families, following the reporting of police comments after the tragedy.
A letter showed that days after the 1989 disaster an unnamed Merseyside officer had blamed "drunken fans".
The official inquiry found the main cause had been the failure in crowd control by South Yorkshire Police.
Chief Constable Jon Murphy said he supported that finding.
The documents, seen by BBC Radio 4's The World at One on Thursday, showed the unnamed officer had suggested "drunken Liverpool fans" had caused the disaster in a briefing days after it happened in April 1989.
The then Chief Constable of Merseyside Police, the late Sir Kenneth Oxford, was also quoted as saying "a key factor in causing the disaster was the fact that large numbers of Liverpool fans had turned up without tickets".
Within months of the tragedy, Lord Justice Taylor's report into it dismissed both suggestions and said the "great majority were not drunk or even the worse for drink," and said that "some officers, seeking to rationalise their loss of control, overestimated the drunkenness in the crowd".
Mr Murphy said the force had been "made aware of the existence of a document, which contains comments that are alleged to have been made by the late Sir Kenneth Oxford, the Chief Constable of Merseyside Police, and, according to news reports, another senior police officer, at the time of the Hillsborough disaster in 1989".
"We fully support the conclusions made by an independent review by Lord Justice Taylor, which took place following this disaster and have incorporated the findings into how football matches are policed today," he said.
"The Hillsborough tragedy directly affected many people across Merseyside and beyond.
"We understand the profound impact of the events of 15 April 1989 and we continue to extend our deepest sympathies to the families and friends of those who lost their lives."
He added that as the letter was being reviewed, along with many others pertaining to the incident, by the Hillsborough Independent Panel, it would be "inappropriate to comment any further on its content".