Bupa care home cost-cutting 'disgraceful', says judge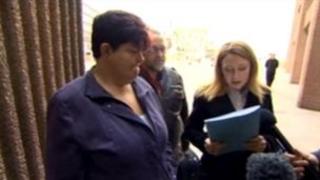 A judge has criticised care home owner Bupa over the cost-cutting pressure it placed on a manager.
Judge Mark Brown spoke as he sentenced a Liverpool care home manager to an eight month suspended jail sentence for wilful neglect.
Karen Southern was convicted at Liverpool Crown Court over the neglect of a 90-year-old woman with dementia.
Bupa said much had changed in the past 18 months at the home, which now meets the required standards of care.
The court heard great grandmother Joyce Farrow often fell out of her bed and got sores on her feet from crawling around.
Her daughter said she was often dirty and dehydrated.
Mrs Farrow died in hospital but the court was told this was not related to her neglect.
The court was told Bupa, which received £4,500 of public money for Mrs Farrow's care plus her pension, put Southern under pressure to keep costs down.
She had no budget to pay for agency staff when her own staff fell sick and the company had a policy of "naming and shaming" managers who hired agency staff.
Judge Mark Brown said this was "quite disgraceful".
In a statement read outside court by her lawyer, Southern said: "I wholeheartedly apologise to Joyce's family for the serious lack of care provided to Joyce while she was in my care. I fully accept I should have done more."