Liverpool museums could start charging due to funding cuts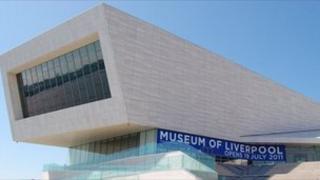 Museums in Liverpool have warned they might have to close displays and start charging in order to save money.
National Museums Liverpool, which runs eight museums in the city, is looking to save £3m over the next two years as part of funding cuts.
The museum also warned that one in four of its 588 staff could lose their jobs.
Director of National Museums Liverpool Dr David Fleming said the savings would have a "significant impact on our visitors and staff".
He added: "The funding situation is very bad and it's getting worse. We will continue to look at alternatives but job losses are unavoidable.
"We will try to keep our museums open to the public, but it is with immense regret that we are considering closure of display galleries, fewer exhibitions, and admission charges for special exhibitions and events."
The nationally-funded museum group said it was not possible to make the required savings without taking action.
Dr Fleming added: "Closing bits and pieces of museums rather than closing entire museums is certainly part of what we are looking at."
'Record visitor numbers'
In 2010, the organisation closed the National Conservation Centre to visitors and has cut 34 jobs in the past year.
Dr Fleming said: "Our museums have just had their most successful year ever with record-breaking visitor numbers - exceeding three million people in 2011.
"But like everyone else in the public sector, we have been hit by severe funding cuts."
National Museums Liverpool includes the World Museum, the Walker Art Gallery, Merseyside Maritime Museum, International Slavery Museum, UK Border Agency National Museum, Sudley House and the Lady Lever Art Gallery the Museum of Liverpool.