No charges over footballer Tom Adeyemi 'racist abuse' case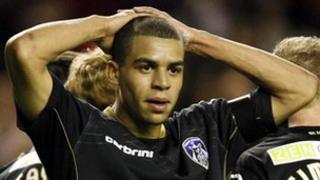 A Merseyside man held on suspicion of racially abusing Oldham Athletic's Tom Adeyemi will not be charged, the Crown Prosecution Service (CPS) has said.
An investigation was launched after the alleged incident at the club's FA Cup third round match versus Liverpool at Anfield on 6 January.
The 20-year-old man, from Aintree, was arrested on suspicion of a racially aggravated public order offence.
The CPS said there was "insufficient evidence" to bring criminal charges.
Jane Roden, head of the complex casework unit for the regional CPS, said: "I have viewed the extensive CCTV footage available, which has been enhanced to isolate and improve the sound.
"I have also read statements from Mr Adeyemi, the match officials and the many independent witnesses to the incident, many of whom came forward after the game to offer their evidence after hearing media reports of the incident.
"There are two important factors I have relied upon when making my decision: the enhanced CCTV footage and the high proportion of witness statements which tend to support the suspect's version of events.
"On the balance of all of the evidence, I have therefore concluded that there is insufficient evidence to bring any criminal charges in this case..."
Oldham Athletic have said they accept the decision and thanked Merseyside Police and the CPS for their work during the investigation.
Director Barry Owen said he had not yet discussed the matter with the player.
He added: "The events of the evening were unsavoury in respect of the incident, but should not detract from a fantastic night for our players and spectators alike."