Andrew Jones anniversary sees new appeal to find killer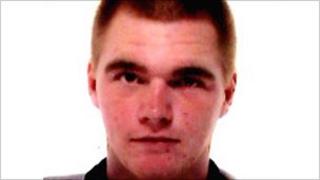 The parents of a man from Liverpool who died in an attack outside a nightclub nine years ago are renewing their plea for help to find their son's killer.
Andrew Jones, 18, from Walton, was punched in the face outside a nightclub in Hanover Street in the city centre.
He fell and hit his head on the ground and died from his injuries the next day, 10 March 2003.
Christine and Andy Jones are appealing for witnesses to "search their consciences" and come forward.
They said: "We want to take this opportunity to appeal to anyone who knows anything, not matter how small, which may help the police in finding those responsible for our son's death.
"We particularly want to appeal to the group of people who were with the man who assaulted Andrew that night.
"Now that they may have their own children they can put themselves in our position."
'See justice done'
"We want them to search their consciences and come forward so that we can see justice done and bring back some sense of normality to our lives which have been destroyed."
At 11:00 GMT family and friends of the teenager will be holding a vigil in his memory at the junction of Seel Street and Hanover Street near where Andrew was assaulted.
Merseyside Police will also be appealing for information at Saturday's Everton match against Tottenham.
Posters were distributed by police at Anfield last week for the Liverpool game against Arsenal and were distributed at Prenton Park for Tranmere Rovers' match with Leyton Orient.
Det Ch Insp Dave Brunskill said: "We are hoping that someone attending these games may have some information which could help us bring the person, or persons responsible, to justice."
A £10,000 reward is being offered for information leading to an arrest and conviction.