Liverpool City Council rubber stamps £50m spending cuts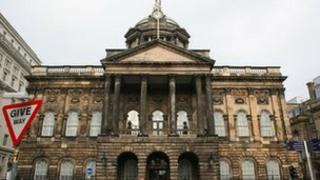 Councillors in Liverpool have agreed to cut £50m from the city council's budget in the coming financial year.
The budget details were the result of a joint working party between the ruling Labour group and the Liberal Party.
Liberal group leader Councillor Steve Radford said that he hoped it marked the start of a new way of working.
The council's cabinet had been warned the city's financial position could worsen from 2013 if its level of funding from government changed.
"I think the process has served us well," said Mr Radford.
"This openness and sharing responsibility which I believe ought to continue going forward when the times are better."
The council reversed £1.7m of savings options previously approved.
That means school uniform grants will be retained, the household goods removal service Bulky Bob's will remain free of charge, there will be no cuts in the budget for mental health accommodation and no reduction in funding for substance misuse and the homeless service.
'More cuts'
The savings are coming from a range of measures, including rental savings on city centre tourist information centre the 08 Place, not holding a referendum on an elected mayor, and changing the procurement service to buy goods and services more cheaply.
Council Leader Joe Anderson said: "We have been working right up to the 11th hour to make sure the remainder of the budget cuts do not hit the most vulnerable."
He added: "Although we have managed to avoid some of the most severe cuts, there is no doubt that in some cases the delivery of council services will be affected. You can't cut more than £50m of spending and not notice.
The council said £20m savings had come from updating financial planning assumptions and reducing the amount of money set aside for contingencies and liabilities.
It estimates it will need to find a further £21.6m in 2013-14 and £39.3m in 2014-15. A further £45.6m will have to be found between 2015 and 2017.