Canon Pete Wilcox is new Liverpool Cathedral dean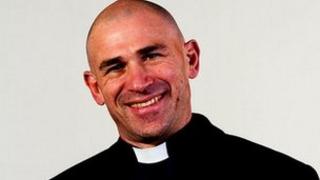 The new Dean of Liverpool Cathedral is to be the Canon Dr Pete Wilcox, Downing Street has announced.
Canon Wilcox, 50, is currently based at Lichfield Cathedral but will start in Liverpool in September.
Bishop of Liverpool James Jones said he welcomed the appointment, adding that Canon Wilcox had the right gifts to lead the cathedral.
The new dean, a father-of-two who is married to novelist Catherine Fox, is the seventh holder of the post.
Canon Wilcox said: "I am thrilled to be joining such a gifted team at Liverpool Cathedral, at a time of great opportunity for mission.
"I look forward to getting to know the city of Liverpool and the wider diocese, having heard so many good things about both."
Based at Lichfield for the last six years, he has been a priest since 1987.
A keen Newcastle United fan, he has written three books.
His wife is the author of three novels as well as a book about her quest to gain a black belt in judo.
The previous dean, the Very Reverend Justin Welby, was appointed Bishop of Durham last year.