Liverpool mayor election: Labour select Joe Anderson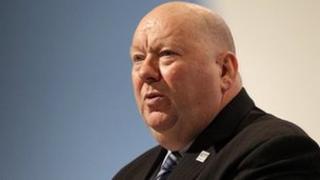 Liverpool's current council leader Joe Anderson has been selected unopposed as Labour candidate for the city's mayoral election.
Mr Anderson, who has led Liverpool's Labour group since 2002, was unchallenged by the rest of his party.
Councillors at the Labour-run authority voted in February to skip a referendum and hold elections for a mayor in May.
The council said by moving directly to a mayoral model the city would receive £130m in government funding.
The vote to drop plans for a referendum, which was scheduled for May, was passed by 62 votes to three, with 12 abstentions.
The Liberal Democrats have selected their deputy leader Richard Kemp as their candidate and John Coyne is to represent the Green Party.
Independents Liam Fogarty and local hair stylist Herbert Howe have also announced their intention to stand.
Nominations for candidates for mayor close at 12:00 GMT on 4 April.