HMS Liverpool makes final voyage to River Mersey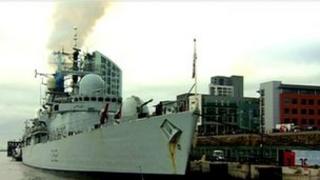 The Royal Navy warship HMS Liverpool has arrived in Liverpool on its final voyage to the city.
The Type-42 destroyer, built at Cammell Laird in Birkenhead, berthed in the port at about 09:30 GMT.
The ship has just spent seven months working off Libya and is due to be taken out of service.
The Mayor of Liverpool Frank Prendergast joined the ship on Monday and was on board as it sailed into the city.
The nearly 300-strong crew were awarded the Freedom of the City of Liverpool on their last visit in February 2011.
'Poignant and dignified'
As a result, the crew will exercise their right to march through the city on Friday.
Commanding Officer of HMS Liverpool, Cdr Colin Williams, said: "To be bringing her back home to Liverpool is, without question, not only the absolute pinnacle of this celebration, but also a very poignant and dignified moment in her long and illustrious life."
Leading fitness instructor Chris Reeves said: "It's something I have been looking forward to for a while, I'm a local lad and it means a lot to me and it is very important to me, I'm proud of having been on this ship."
Petty Officer Leanne Ainscough added: "I've been on board since 2005, and it's going to be a big change, I'm going to miss it."
The ship was fired at during its duty in Libya. It returned fire 10 times and launched 211 rounds of illumination and high explosive shells from its 4.5 inch gun.
It helped enforce the No-Fly Zone above Libya and helped prevent arms from reaching pro-Gaddafi forces by sea.
HMS Liverpool was commissioned in 1982 and was finished a year ahead of schedule.
The ship leaves Liverpool at 11:00 GMT on Monday.