Merseyside measles cases increase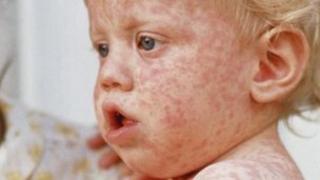 The number of confirmed measles cases in Merseyside has continued to rise, health officials have said.
The Health Protection Agency (HPA) said there were 20 confirmed cases and 41 under investigation.
A measles outbreak was declared on 16 February. The majority of patients are concentrated in the Liverpool area.
Dr Sam Ghebrehewet, director of Cheshire and Merseyside Health Protection Unit, said there seemed to be "more than one source of infection".
'Unprotected children'
He said the "sporadic nature" of the outbreak, with cases also in Knowsley, St Helens and Sefton, suggested that "measles may have been circulating in the community for some time".
The HPA said 95% of 13-month-old children in the area are currently vaccinated but that the uptake rate had been lower in previous years meaning "there is a pool of unprotected older children in the community".
Dr Ghebrehewet said: "The best protection that parents can give to their children is to ensure they are fully vaccinated.
"Two doses of MMR vaccine will protect against measles, mumps and rubella, three illnesses that can have serious side effects.
"If parents aren't sure if their children have previously been vaccinated, they should ask the family doctor for advice."
The HPA is advising people with symptoms of measles to telephone their family GP for advice before attending surgeries.
Anyone with symptoms should stay away from school, nursery or work until at least four days have elapsed since a rash developed and avoid contact with pregnant women who are more vulnerable to infection.