Merseyside gang members who targeted cash machines jailed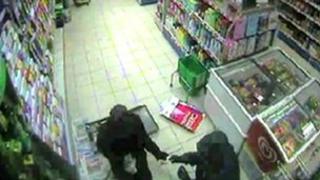 Four men from Merseyside who attacked or stole cash machines across England have been jailed.
The gang targeted machines in Worcestershire, Derbyshire, Cleveland, North Yorkshire and Cornwall, over seven months from January last year.
Kevin Caveney, David Owens and Shaun Ennis admitted conspiracy to burgle and Robin Vaughan admitted assisting an offender, at Preston Crown Court.
They received sentences of between 18 months and seven years.
The four were caught and identified via CCTV after police began a surveillance operation following the burglaries in 2011.
'Highly organised'
Police said the gang had planned their thefts around the motorway network and, on identifying targets, either forced the machines open to take the money inside or stole the complete machine.
Owens, 35, of Rosewood Close, Stockbridge Village near Liverpool was jailed for seven years; Ennis, 41, of Custley Hey, Liverpool was jailed for six years six months; Caveney, 26, of Harefield Road in Speke was sentenced to five years, nine months; Vaughan, 39, of Lime Grove, Huyton was jailed for 18 months.
A spokeswoman said it was believed the gang had been responsible for eight burglaries, beginning with a raid on Pershore College in Evesham, Worcestershire and ending with one on a caravan park in Helston, Cornwall.
Other sites that were hit included a restaurant at the North Yorkshire amusement park Flamingo Land and a service station at Marske in Cleveland.
Following the burglary in Cornwall, officers searched the homes of Owens, Caveney and Ennis in July, finding £3,500 in cash, tools, money bags, a road atlas and documents relating to a car used in one of the burglaries.
The spokeswoman said police believed the four "stole a substantial amount of cash" and were thought to have been planning "considerably more" burglaries.
John Dilworth, Head of North West CPS Complex Casework Unit said the crimes had been an example of "persistent, widespread and highly organised criminality".
"The locations targeted were hundreds of miles apart and these crimes required a great deal of planning," he said.
Det Insp Michael Fraser, the North-West Regional Crime Unit, said the investigation had shown how successful officers were at tackling crime across several regions.
"Today's convictions reflect the persistence of our officers to see that justice is served on offenders who travel the country carrying out crimes," he said.