Liverpool FC accused of inciting racism by community groups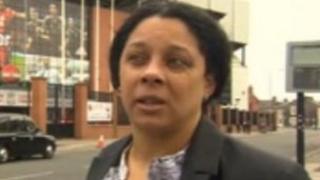 Black community groups from Merseyside have accused Liverpool Football Club of inciting racism through its handling of the Luis Suarez affair.
The player was banned for eight matches after an independent panel found he racially abused Manchester United's Patrice Evra during a game in October.
He then refused to shake Evra's hand but he and the club later apologised.
Liverpool Football Club said it was committed to playing its part in the fight against racism.
It said the club and Suarez had already expressed disappointment over the events at Old Trafford.
The community groups laid out their concerns in a letter to Kenny Dalglish and the club's directors.
The Consortium of Liverpool Black and Anti-Racism Organisations includes teaching consultant Gloria Hyatt, Eric Lynch from Slavery History Tours, and Femi Sowande, from Merseyside Black History Month Group.
'Issued apologies'
Also involved are Peter Herbert, from the Society of Black Lawyers, and Paul Jenkins, from North West Unite Against Fascism.
They are calling on the club to accept the findings of the Football Association and that Suarez should publicly apologise to Evra over the initial incident.
In a statement, the club said: "Liverpool FC made clear its disappointment with what happened recently at Old Trafford and both Luis Suarez and Kenny Dalglish issued apologies.
"The player did not previously appeal the FA sanction, served his suspension and apologised to anyone he had offended.
"In light of recent events, the club have met with a number of key national and local stakeholders on these issues. We are also working with Sporting Equals, an independent UK-wide charity and one of the leading experts in equality and diversity in sport to develop a strategic action plan encompassing both our staff and external stakeholders."
'Raised tensions'
It said: "The club has a long and successful track record in the area of social inclusion both at home and abroad and we will continue to build on the work we have already done.
"We are committed to playing our part, alongside the game's authorities and other agencies, in the fight against racism and discrimination of any sort."
Ms Hyatt, from the consortium, said: "In a city like ours, where we have black and white living happily side by side, it has raised tensions and people have said that it has damaged a reputation, not just of Liverpool FC but of our city.
"We will be known as a city that is intolerant to race and different races."
The Anthony Walker Foundation, set up after the racist murder of the teenager, has also said there were concerns about how the case was handled.
It said last week that lessons should be learned from the incident, which reflected badly on the city.