Van Gogh and Paul Gauguin self-portraits on display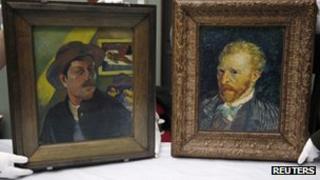 Two self-portraits by Vincent van Gogh and Paul Gauguin have gone on display at a Wirral art gallery.
The Post-Impressionist artists' paintings are at Port Sunlight's Lady Lever Art Gallery. They are on loan from Musée d'Orsay in Paris.
Van Gogh's self-portrait dates from 1887, the year before he worked with Gauguin in the south of France. Gauguin's painting is from about 1893.
The paintings will be displayed until 11 June, 2012. Entry is free.
Never met again
Sandra Penketh, head of Lady Lever Art Gallery, said: "It is a great privilege to have these self-portraits hanging together - the personalities of the two legendary artists seem to leap out of the canvases to challenge the viewer."
Van Gogh and Gauguin worked together at the Yellow House in Arles in the south of France for two months in 1888.
They had a tempestuous friendship, arguing regularly, and in late December 1888, after van Gogh threatened him with a razor, Gauguin returned to Paris.
Van Gogh mutilated his ear and soon after became a voluntary patient in an asylum.
The two men would not meet again. Van Gogh killed himself in July 1890.
The paintings have been loaned to the gallery, part of National Museums Liverpool, in exchange for its loan of The Blessed Damozel by Rossetti to an exhibition in Paris.