Archbishop Patrick Kelly marks 50 years as a priest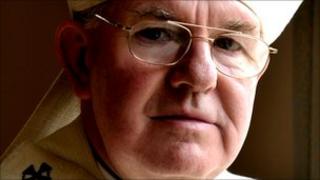 The Archbishop of Liverpool the Rt Rev Patrick Kelly, celebrated 50 years as a priest with Merseyside's civic and political leaders.
Archbishop Kelly marked his golden jubilee at the annual Liverpool Civic Mass which will be held at the city's Metropolitan Cathedral.
The Morecambe-born cleric was ordained a priest in Rome on 18 February 1962 by Cardinal William Godfrey.
He was Bishop of Salford prior to his appointment to Liverpool in 1996.