Merseyside measles outbreak declared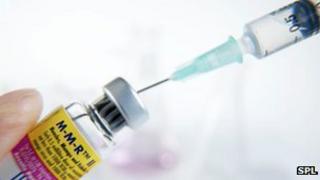 A measles outbreak has been declared on Merseyside after six people required hospital treatment, the Health Protection Agency (HPA) has said.
There have been 13 confirmed and 16 suspected cases in patients who range in age from nine months to adults in their 20s.
In comparison, there was one confirmed case on Merseyside in the first six weeks of 2011.
The HPA is warning parents to ensure children are fully vaccinated.
Four children and two adults needed hospital treatment for the disease.
MMR vaccine
The majority of the cases are in Liverpool, with a small cluster in St Helens.
Dr Roberto Vivancos, consultant for the HPA, said measles, which is spread when infected people cough or sneeze, was "circulating in the community".
He said: "We have alerted GPs and asked them to notify us of any cases they come across.
"We are also asking parents and GPs to do all they can to ensure that children are fully protected by MMR vaccine."
The most common symptoms of measles are fever, cough, sore eyes and a rash that develops over three to four days, beginning with the face and head and spreading down the body.
People with symptoms are advised to stay away from school, nursery or work until four days have elapsed after the development of a rash.
They are also asked to avoid contact with pregnant women and to telephone their GP for advice before attending the surgery.
Liverpool Primary Care Trust (PCT) has set up a telephone helpline for information about measles on 0151 296 7565.