Royal Liverpool Philharmonic proves 'oldest' ad claim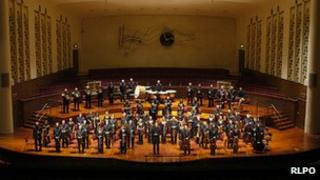 The Royal Liverpool Philharmonic (RLPO) was not misleading in its claim to be the "oldest surviving professional symphony orchestra", it has been ruled.
A complainant to the Advertising Standards Authority (ASA) challenged whether the orchestra's website claim could be substantiated.
The ASA ruled the orchestra had shown "documentary evidence" to prove the claim.
In 2011, Manchester's Halle Orchestra was forced to drop a similar claim.
After judging it could not substantiate its professional age, the authority ruled the Halle must stop using the tagline of being the country's "longest-established permanent professional" organisation.
In the judgement on the RLPO, the ASA said the complainant may have been confused by the orchestra's website, which stated it had been "at the heart of Liverpool's cultural life since 1840".
Professional archive
However, it stated that "the claim 'the UK's oldest surviving professional symphony orchestra' was intended to refer to the date from which the orchestra became fully professional, in 1853".
As evidence, the RLPO said a review of its previously "un-catalogued and inaccessible" records had revealed its professional beginnings.
The adjudication stated the orchestra said that "prior to this review of their archive the conventional wisdom in classical music circles was that Manchester's Halle was the UK's oldest surviving professional symphony orchestra".
However, after reviewing 35 letters from orchestral players in 1850, in which they agreed to accept the terms offered by RLPO for the coming season, annual accounts for the years 1853 to 1858 and committee minutes, the ASA found its claim was not in breach of advertising guidelines.
A spokesman for the Royal Liverpool Philharmonic said: "We were able to draw on our archive held at Liverpool Record Office to substantiate our claim thanks... to a professional archivist who fully catalogued it and made it available to the general public in 2008.
"Liverpool Philharmonic has a fantastic and illustrious history, serving the city over three centuries. 2015 marks 175 years since our founding and our ambition now is to ensure that Liverpool Philharmonic stays at the heart of the city's cultural life for another 175 years."