Oliver King death prompts petition by Liverpool councillor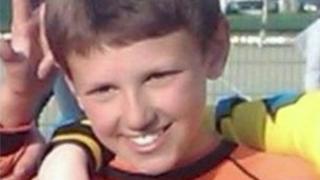 A Liverpool councillor has started an online petition calling for all schools and sports centres to have heart resuscitation machines.
Jake Morrison, from Wavertree, is also urging electrocardiogram (ECG) tests for all 12 to 35-year-olds.
He is patron of The Oliver King Foundation, which was set up after Liverpool boy Oliver died of sudden adult death syndrome (SADS) in March.
The 12-year-old was a pupil at King David High School, Childwall.
The foundation was launched last week by Oliver's parents, who are trying to raise awareness of the condition which often goes undetected in children.
Mr Morrison's petition, which could be debated in the House of Commons if it gets 100,000 signatures, says: "We call on the government to introduce defibrillators to all public buildings by 2017, and provide staff with the appropriate training.
"We also call on the government to offer all people aged between 12 and 35 a simple ECG test, which could reduce the current death rate of 12 young people a week."
The Labour councillor said: "I've been working with the family over the past few months and they are doing invaluable work to raise awareness of this silent killer.
"It is clear by the amount of signatures we have received already that this is a cause close to people's hearts."
Oliver's father Mark said: "We need to get these defibrillators in schools and screening introduced to save young people's lives."