Liverpool council votes to elect city mayor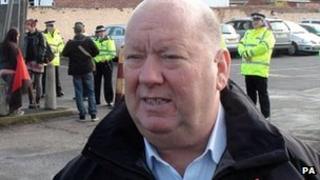 The people of Liverpool will vote for a city mayor later this year, the council has announced.
The city had been one of 11 due to hold a public referendum on whether or not to introduce a directly elected mayor.
Councillors voted earlier to bypass the May referendum and hold an election at that time instead.
In a statement, the council said by moving directly to the mayoral model the city would better its chances of receiving £130m in government funds.
It said: "The deal is not dependent on the city having a mayor, but central government has given a clear signal that moving to a mayoral model will provide the accountability it needs before the funds and new powers are handed over."
Four years of power
Cities Minister Greg Clark said: "This is an historic day for the people of Liverpool that will enhance the standing of this proud city both in Britain and on the world stage.
"When elected, Liverpool's mayor will provide the city with the strong, visible leadership that it deserves."
The vote to skip the referendum, at an extraordinary council meeting, was passed by 62 votes to three, with 12 abstentions.
The Labour council leader Joe Anderson had previously said bypassing the referendum would be better for the city.
This led to criticism from Liberal Democrat councillor Richard Kemp who said he was "saddened" that Mr Anderson wanted to "deny" the people of Liverpool a say.
It also led to Deputy Prime Minister Nick Clegg telling the council in a letter that government funding was not wholly dependent on them introducing an elected mayor.
Nominations for mayoral candidates will close on 4 April, with the election expected to take place on 3 May.
The elected mayor will then be in power for four years and will select a cabinet from the city's 90 councillors.